This article or section contains information about a feature or element in the game that is a work in progress.
The content may change substantially as more information becomes available. Please keep speculation down to a minimum.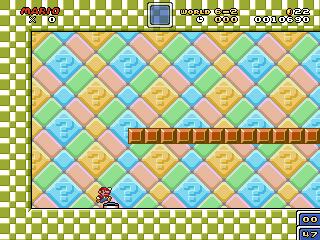 A
Switch Palace
is a special building on the world map. Inside each Switch Palace is a giant Switch. When activated, same-colored dashed line blocks would become solid ! Blocks on all levels in
Mushroom Kingdom Fusion
containing them.
Origins
The Switch Palace originated from the 1991 SNES launch game, Super Mario World. Their function is carried over to Mushroom Kingdom Fusion.
Colors and effects
Mushroom Kingdom Fusion contains the four standard Super Mario World Switch Palace colors: Yellow, Red, Green, and Blue. On the forums, an entirely new array of Switch Palace colors is in discussion, each with different effects.
Currently (as of v0.41), there is only one functional Switch Palace (the Yellow Switch Palace in World 1). This Switch Palace makes the levels Lair of the Leviathan and Storm Canyon somewhat easier to navigate.
In discussion are the different items each color Switch Palace will impart to their respective ! Blocks. The following is a very tentative list of the effects: