Welcome to the Mushroom Kingdom Fusion Wiki
a comprehensive compendium of all elements of this crossover fangame that
anyone can edit
1,368 articles since May 29, 2008.
Super Mario Fusion: Revival - A spinoff and sister project to Mushroom Kingdom Fusion that focuses more on Mario-style game mechanics.
News
Today is October 19, 2021
February 12, 2021: v0.75 released. Includes several new levels, a large number of revamps and the return of Waluigi.
October 27, 2020: v0.7375 Funny Parallax released. Includes several new levels and boss for Hell Prominence.
November 30, 2019: v0.7 released. Includes improved Sonic gameplay, over 10 new levels, and faster loading times in between rooms.
November 12, 2018: After 3 years of cancellation, MKF is finally back with the release of v0.6 "Vanilla Shroom".
April 5, 2017: This Wiki will remain up. However, only established users can edit it from here on out. Feel free to create an account if you wish to edit this wiki.
March 12, 2017: Fusion Gameworks has announced that the development of Super Mario Fusion: Revival (known at this time as Mario Fusion) has been ceased by the official devs, because of the lack of interest in development and the issue of Nintendo's copyright strikes. The source has been released to the public if anyone who happens to have Game Maker 8 Pro would like to continue the project, and Fusion Gameworks will stop creating fangames (others on the site still can and maybe will) and now pursue the goal of becoming an indie game developer.
External Links
Helping out
To write a new article, just enter the article title in the box below.
Featured article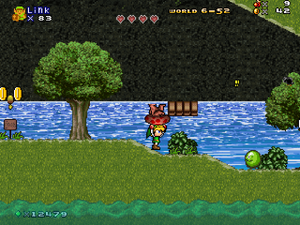 Chrono Chaos is the second secret level in Adventurer's Domain that set in the Chrono Trigger universe. This level offers a unique mechanic - portals that move the player through time. Read more...
Featured picture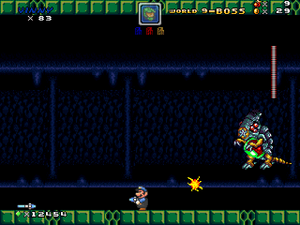 Zeta Metroid messed with Vinny. So stupid death for this pathetic world boss!